Counseling Center
Ingraham Counseling Center
Counseling Team Office Hours and Appointments
Office Hours: Monday-Friday, 8:30 a.m. – 4 p.m.
Office fax: 206-252-3881
School Counselors: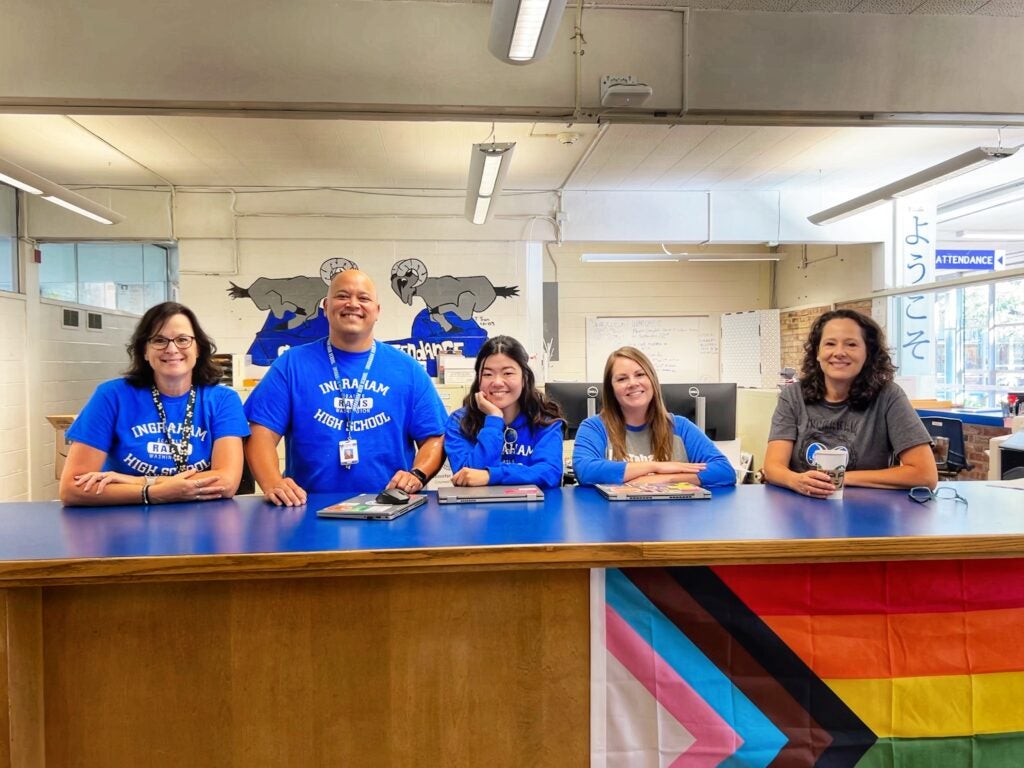 Students New to Ingraham
New students (Class of 2026 and new to Ingraham): Welcome to Ingraham! We are looking forward to welcoming you to the Ram family. Here is where you can find all the resources you need for registration.
Registrar
If you know your student WILL NOT be attending Ingraham next year and/or if you have any questions about in person placement. Please contact our registrar, Cindy Spencer at cgspencer@seattleschools.org or call 206-252-4001.
Frequently Asked Questions
---
Counseling Resources
Service Learning Opportunities
---
Mental Health, Addiction, and Social Services Resources
Seattle Schools Health and Wellness Reference Page
For immediate help
The Crisis Connection 24 Hour Help Line – 866-427-4747 Crisis Connection Website
Crisis Connections, formerly known as Crisis Clinic, was founded in 1964. We are one of the oldest Crisis Lines in the nation, and home to five programs focused on serving the emotional and physical needs of individuals across Washington State. These programs include the 24-Hour Crisis Line, King County 2-1-1, Teen Link, WA Recovery Help Line and WA Warm Line.
Teen Link – 866-833-6546 Hours: 2pm-10pm, Sat/Sun 6pm-10pm Teen Link Website
Teen Link is a confidential and anonymous help line for teens. Trained teen volunteers are available to talk with you about any issue of concern. No issue is too big or too small!
King County 2-1-1 – Phone: 2-1-1
Connects people to the help they need. King County 2-1-1 provides the most comprehensive information on health and human services in King County. Whether it's for housing assistance, help with financial needs, or to find the location of the nearest food bank.
National Suicide Prevention Lifeline – 1-800-273-8255 National Suicide Prevention Lifeline Website
We can all help prevent suicide. The Lifeline provides 24/7, free and confidential support for people in distress, prevention and crisis resources for you or your loved ones
WA Recovery Help Line – 866-789-1511 WA Recovery Help Line Website
The Washington Recovery Help Line is an anonymous and confidential help line that provides crisis intervention and referral services for Washington State residents. Professionally trained volunteers and staff are available to provide emotional support 24 hours a day, and offer local treatment resources for substance abuse, problem gambling and mental health as well as to other community services.